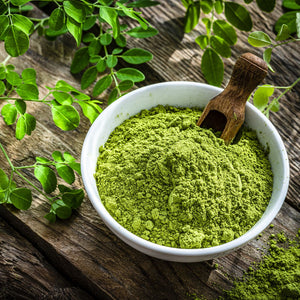 Moringa Powder
MORINGA is one of the greatest supplement ever discovered by mankind. The MORINGA TREE was named "ELIXIR TREE" because all parts of the tree is used as food. The Moringa Tree is composed of the tree, bark, its leaves, beautiful white flowers and 20-30 long round pea pods, filled with 12-18 shells each filled with a pea or seed. Moringa has been used for many centuries due to its medicinal properties and health benefits. It also has antifungal, antiviral, antidepressant, and anti-inflammatory properties.
It is a nutritional powerhouse packed with more than 90 nutrients and 46 antioxidants. The Moringa Tree is a tropical tree that grows in many countries on the continent of Africa. Africans have been enjoying the benefits of the Moringa Tree for thousands of years. Moringa is sold by the ounce as a 100% natural herbal green powder.
Moringa leaves are ground into powder and 1-3 teaspoons should be sprinkled over your salads and vegetables daily.
The Moringa Tree has many nutrients such as Vitamin A- Beta Carotene, 
Vitamins B, C, E, Calcium, Magnesium, Zinc, Potassium, Antioxidants, Carotenoids and Photo-nutrients. 
Other Amazing Benefits include:
MORINGA provides the 8 essential amino acids required by our bodies.
MORINGA contains per gram approximately:
3 times more Potassium than bananas

3 times more Iron than spinach

4 times more Vitamin A than carrots

7 times more Vitamin C than oranges

3 times more Vitamin E than almonds
MORINGA POWDER improves our energy and stamina.
MORINGA POWDER reduces blood glucose levels.
MORINGA POWDER cleans toxins from our blood.
MORINGA helps to increase sperm count.
MORINGA helps to increase sexual interest.
MORINGA slows the aging process and promotes healthy-looking skin.
MORINGA helps regulate blood pressure and promotes restful sleep.
MORINGA promotes mental clarity and promotes weight loss.
MORINGA extracts has been shown to help with healing of wounds and reduce the appearance of scars.
MORINGA contains eyesight-improving properties thanks to its high antioxidant levels. it stops the dilation of retinal vessels, helps prevent the thickening of capillary membranes, and inhibit retinal dysfunction.
How To Use Moringa Powder
Stir it into your water. Hot or cold, though it might go down easiest in warm water mixed with a little lemon and honey.

Steep it as a tea. 

Mix 1-2 teaspoons into your smoothies.

Sprinkle it into soups. 

Bake it into

Mix it into your salad dressing.
---
We Also Recommend
---