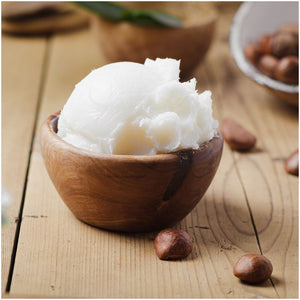 Raw Unrefined Natural Shea Butter
Made in Ghana.
Shea butter is fat extracted from the nuts of a shea tree. It's solid at warm temperatures and has an off-white or ivory color. Shea trees are native Shea butter to West Africa, especially Ghana and most shea butter still comes from that region.
Shea butter has been used as a cosmetic ingredient for centuries. It's high concentration of vitamins and fatty acids — combined with it's easy-to-spread consistency — makes
 it a great product for smoothing, soothing, and conditioning your skin and also has great benefits for hair.
Shea Butter will provide improvement in all the conditions listed below:
Dry skin

Skin rash

Skin peeling after tanning

Blemishes and wrindes

Itching skin

Sunburn

Shaving cream for a smooth silky

Small skin wounds

Skin cracks

Tough or rough skin (on feet)

Cold weather

Frost bites

Stretch mark prevention during pregnancy

Insect bites

Healthy skin

Muscle fatigue, aches and tension

For before and after strenuous exercise

Skin allergies such as poison ivy or poison bak

Eczema

Dermatitis

Skin damage from heat (hot grease while cooking radiation treatment for certain medical problems, etc.)
It's safe for all skin types:

Shea butter

is technically a tree nut product. But unlike most tree nut products, it's very low in the proteins that can trigger allergies.
Benefits for hair:

Shea butter

may help reduce dry scalp and scalp irritation, because of its moisturizing and anti-inflammatory properties. A person can melt raw shea butter and massage it into the scalp and full length of the hair or Leave the shea butter on the hair and then wash it off in the shower using a mild shampoo.
It's moisturizing:

Shea butter

is known and used for its moisturizing effects. These benefits are tied to shea's fatty acid content, including linoleic, oleic, stearic, and palmitic acids, these oils are rapidly absorbed into your skin.

It won't make your skin oily:

Shea butter

contains high levels of linoleic acid and oleic acid. These two acids balance each other out. That means shea butter is easy for your skin to fully absorb and won't make your skin look oily after application
It is an antioxidant:

Shea butter

has significant levels of vitamins A and E, which means it promotes strong antioxidant activity. Antioxidants are important anti-aging agents. They protect your skin cells from free radicals that can lead to premature aging and dull-looking skin.
It may help reduce the appearance of stretch marks and scarring:

It's thought that shea butter stops keloid fibroblasts — scar tissue — from reproducing, while encouraging healthy cell growth to take their place. This may help your skin heal, minimizing the appearance of stretch marks and scarring.
It offers added sun protection:

Shea butter

contains an estimated SPF of 3 to 4.

Shea butter

can't be used by itself as an effective sunscreen. But using

shea butter

on your skin does give you some added sun protection, so layer it over your favorite sunscreen on days you'll be spending outside.

It helps soothe muscle soreness:

Muscles that have been overextended can be affected by inflammation and stiffness as your body repairs muscle tissue. Shea butter may help sore muscles in the same way it may help joint pain — by reducing inflammation. Massage with

Shea butter

. 
Order Organic Shea Butter Here
WHO SHOULD USE SHEA BUTTER
Everyone! Every household should have a jar of Shea Butter, either among the beauty suppies for soft smooth looking skin, or in the medicine cabinet for minor skin injuries around the house.
As you use this
multi-purpose cream
you are likely to discover additional uses. The amount of time required for optimum results with various conditions may vary with each condition. Wrinkles, for example, require 4 to 6 weeks of daily use. Itching is relieved immediately.
---
We Also Recommend
---