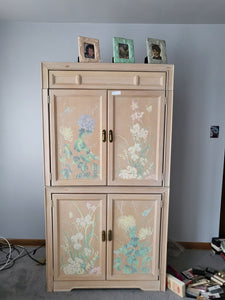 Vintage Flowery Big Plus Storage Cabinet
RARE FIND                                                                                                       Fabulous Vintage Flowery Big Plus Storage Cabinet! This big plus cabinet is perfect for storing items. It's also great for adding decorative storage to any room in the house. The peach-colored cabinet is painted with a beautiful flower design, and one drawer and four doors are framed with antique brass hardware. With its unique look, it will be sure to impress your guests!
This beautiful piece is sure to catch your eye! The antique-style design and lovely flower painting on the top four doors give this big plus storage cabinet a feeling of tranquility. It's unique, one-of-a-kind, and rare. 
Specifications
Dimensions: Length (38 cm), Width (58 cm), Height (122 cm)
Condition: in good condition with no signs of wear.
Definition: Cabinet
Style: Chinese
Origin: China
Material:
Wood
---
We Also Recommend
---