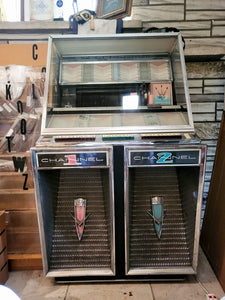 1959 Seeburg 222 Select o'matic Jukebox
Model 220 and 222 were not only Seeburg's but the first presented stereo jukebox in general. Introduced in Oct. 1958, next to this new feature Seeburg decided to drop the 200 selection line and offered 100 and 160 selection models only. The imprint "Channel 1" and "Channel " gave these models the nickname "Channel".
This particular jukebox is in excellent condition and contains all its original records. 
---
We Also Recommend
---